BiH Tobacco Excise Tax Modeling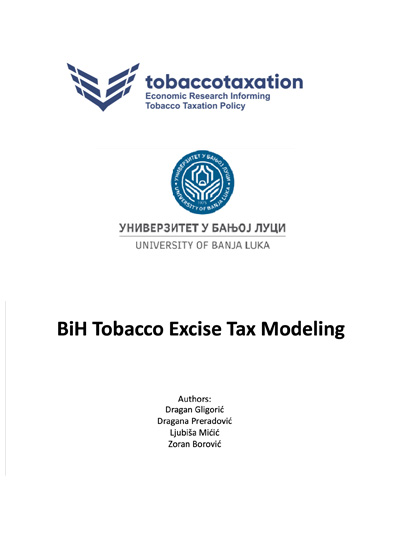 Authors: Dragan Gligorić, Dragana Preradović, Ljubiša Mićić, Zoran Borović
Tirana, November 2, 2022
INTRODUCTION
Tobacco use is one of the leading causes of death in all countries regardless of income level.
More than eight million people in the world died from a tobacco-related disease in 2019.
Global level smoking prevalence is decreasing (32.7 percent in 2000 versus 22.3 percent in 2020), as well as the absolute number of smokers in the world (1.37 billion in 2000 versus 1.30 billion in 2020) (WHO, 2021)
The number of annual deaths is expected to keep growing since tobacco-related diseases slowly kill both its users and those exposed to secondhand smoke (SHS) (WHO, 2021)
BiH ranks eleventh in the world in terms of smoking prevalence.
In 2019 showed that 41.1 percent of adults were current smokers.
Among daily smokers, more than 20 percent started smoking daily before the age of 18, while almost 60 percent started between the ages of 18 and 24.
Almost half of current smokers smoke more than 20 cigarettes per day.
These findings suggest that the population in BiH is susceptible to the development of smoking-related diseases
The consequences are high treatment costs of such diseases and loss of productivity due to absence from work, lost of lives and other costs
Since 2009 tobacco tax policy in B&H consists of ad valorem (currently set at 42 percent of retail price) and a specific excise (currently set at 0.84 EUR per pack of 20 cigarettes).
The policy assumes a gradual annual increase in the specific excise tax on cigarettes (0.077 EUR per year per pack). However, these gradual increases have been insufficient to significantly reduce consumption. Additionally, as of 2020, policymakers in B&H have decided to freeze the increase in
specific excise taxes proposed by the excise calendar.
Although the share of tobacco tax in the retail price is almost 70 percent (83.8 percent with VAT), prices of cigarettes are still significantly below the EU average (€2.79 in BiH versus €4.89 in EU in 2019). Evidently, there is significant space for tax policy improvement.
The total costs of tobacco-related diseases in 2019, in BiH, are 2.36 percent of GDP, and since there is a space for increasing the tobacco tax, tobacco taxation policy can be an effective tool for reducing economic burden of smoking in B&H.